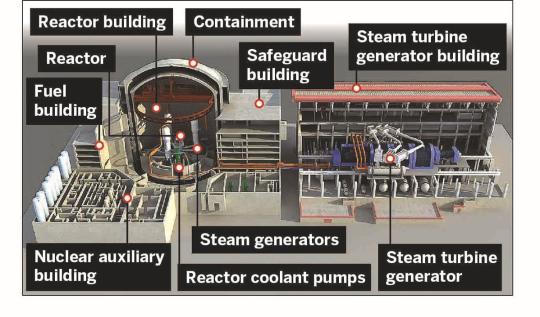 (Photo/China Daily)
Britain's Office for Nuclear Regulation has completed the third stage of its assessment of the first Chinese-designed nuclear reactor technology to seek such approval.
The regulator will now move on to the fourth and final stage of its Generic Design Assessment, or GDA, of the UK HPR1000 design.
It is hoped that the design will be used in future on a United Kingdom power plant that will be jointly built by China General Nuclear Power Group, which is also known as CGN, and French energy giant EDF.
The Office for Nuclear Regulation says it increased its regulatory scrutiny and undertook a more detailed assessment of the design for Step 3, during which it focused on the safety and security methods and approaches used by General Nuclear System Limited, the joint venture of CGN and EDF.
The UK HPR1000 technology, if approved, is likely to be used on a project in Bradwell, in the southern England county of Essex.
Ana Gomez-Cobo, the Office for Nuclear Regulation's head of UK HPR1000 regulation, said: "During Step 3 of GDA we have undertaken assessment work across 19 technical disciplines and covered topics of a cross-cutting nature. Our assessment to date has not identified any fundamental safety or security shortfalls that would prevent us issuing a Design Acceptance Confirmation for the UK HPR1000 design."
However, the regulator pointed to a number of areas for which further substantiation is needed from General Nuclear System Limited and "these have been captured as regulatory observations".
"Although progress so far is encouraging, a lot of work by (General Nuclear System Limited) is still required," Gomez-Cobo added. "We will continue to rigorously assess safety and security submissions throughout Step 4 of GDA."
The regulator also noted that, heading into Step 4 of the assessment, "the timely provision of detailed information containing the necessary evidence will be vital to ensuring that ONR has suitable and sufficient documentation to undertake a meaningful assessment".
The cooperation deal between CGN and EDF was agreed by China and the UK in 2015.
Under this agreement, CGN will take a 33.5 percent stake in the construction of Hinkley Point C, which will be the first nuclear power station to be built in the UK for almost 20 years. It will provide about 7 percent of the country's electricity. The partners will then work on other projects, including the one at Bradwell.
Mao Qing, chief technology officer of the HPR1000, said the reactor was the first to be considered by the UK regulator that did not encounter major problems or issues during the third stage of its assessment.
The GDA process started at the beginning of 2017 following a request by the British government and is expected to take a number of years to complete.