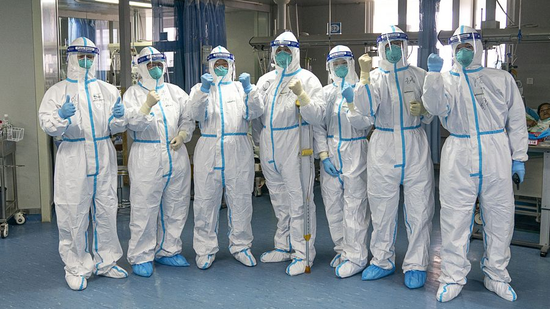 Medical workers pose for a photo in the ICU of Zhongnan Hospital of Wuhan University in Wuhan, central China's Hubei Province, January 24, 2020. /Xinhua Photo
More leaders of foreign countries and international organizations have expressed support for China's battle against the novel coronavirus outbreak and commended China's measures in preventing and controlling the epidemic.
Italian president hosts concert in support of fight against coronavirus
Italian President Sergio Mattarella hosted an extraordinary concert on Thursday, showing solidarity with the Chinese people dealing with the coronavirus emergency.
"This concert highlights the relevance our country attaches to the Italy-China year of culture and tourism 2020, and it represents a sign of friendship from the Italian people to the Chinese people," Mattarella told China Media Group in an interview before the concert.
He highlighted that this year marks the 50th anniversary of the establishment of diplomatic ties between Rome and Beijing, a relationship "shaped on the base of mutual friendship and common interest."
"Italy conveys to China its faith and support in this emergency against the epidemic, and in the (Chinese) efforts to ensure health safety," said the president, adding that the ongoing epidemic is a common enemy.
The Netherlands stands with China against coronavirus
Dutch King Willem-Alexander and Queen Maxima said in a message to Chinese President Xi Jinping that they are closely watching the epidemic situation.
They expressed hope that the Chinese government and people can win this war with great strength and courage, adding that the Netherlands will stand firm with China to fight the epidemic.
Dutch Prime Minister Mark Rutte said a separate message that China has worked closely with the World Health Organization (WHO) and is taking effective measures to curb the spread of the virus.
The Dutch government has provided one million euros (1.1 million U.S. dollars) to the WHO, and will continue to work with China and the WHO to fight the epidemic, said Rutte.
He also expressed thanks to the central and local governments of China for their assistance to Dutch nationals in China.
SCO willing to offer help to China
The Shanghai Cooperation Organization (SCO) member states voiced support for China to fight against the virus and spoke highly of the decisive measures taken by the Chinese government and people to fight the epidemic and prevent its spread.
In a statement, the SCO extended their condolences to those who lost family members and friends during the epidemic, and wished the patients a quick recovery.
The SCO member states confirmed their willingness to provide China with necessary assistance and called on the international community to strengthen cooperation within the framework of the WHO to ensure international and regional public health security.
The SCO expressed belief that with cooperation and mutual support, the globe will successfully overcome the current emergency situation and prevent the epidemic from spreading.